Silversea Cruises has announced new details on the public venues aboard its upcoming ship Silver Nova. The 728-guest vessel will feature 10 bars and lounges, eight restaurants, and a variety of other public venues.
"Silver Nova represents a milestone in our strategy to build the perfect ship for every itinerary, with her array of venues enhancing the guest experience to a new level," said Barbara Muckermann, President and CEO of Silversea Cruises. "Pushing boundaries in ultra-luxury travel, she will enrich the social aspect of cruising to unprecedented levels, fostering the strong sense of community that is core to life on board each Silversea ship. Her openness to the destinations she visits will offer guests a new way of connecting with the world."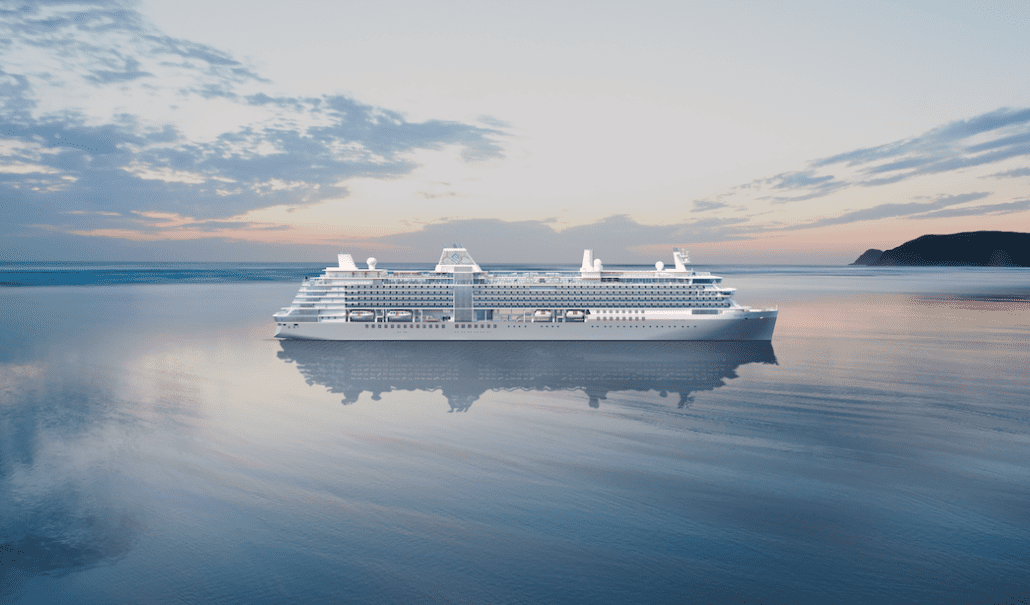 Silver Nova will feature an asymmetrical design and a horizontal layout, which will heighten its sense of spaciousness and allow for better flow between spaces. The vessel will introduce all-new public areas for Silversea, mainly on decks three, four, and five, as well as outside on deck 10.
The Dolce Vita Lounge
Silversea's signature pre and post-dinner drinks venue, the Dolce Vita lounge will represent the heart of Silver Nova — located on deck five with capacity for up to 120 guests. Open from early in the morning until late in the evening, Dolce Vita will provide an elegant setting during the day, welcoming guests for leisurely drinks and activities. By night, the space will transform into a piano bar.
The Venetian Lounge
Silver Nova's two-story Venetian Lounge will span decks four and five, serving as home to the ship's enrichment and entertainment offerings. It'll host theatrical and musical performances, film screenings, lectures, and seminars.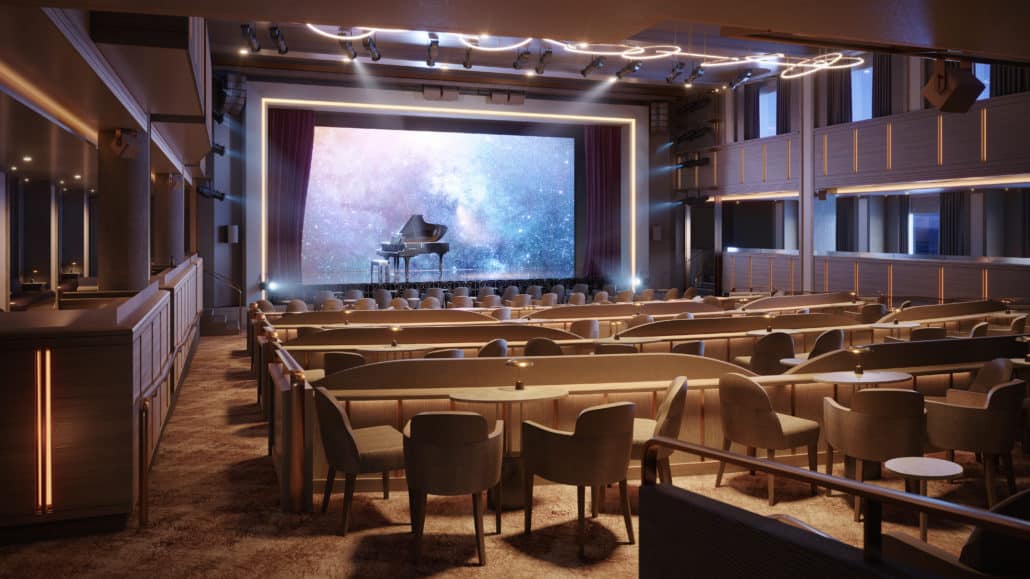 The Shelter
A brand-new venue for Silversea, The Shelter will be an evening-only bar, accommodating 32 guests in a chic setting. Set adjacent to Atlantide and S.A.L.T. Kitchen on deck three, The Shelter will welcome guests for pre-dinner aperitifs and post-dinner cocktails. The venue's elegant interior will employ a neutral color palette, and the striking bar will include a wrap-around bottle display.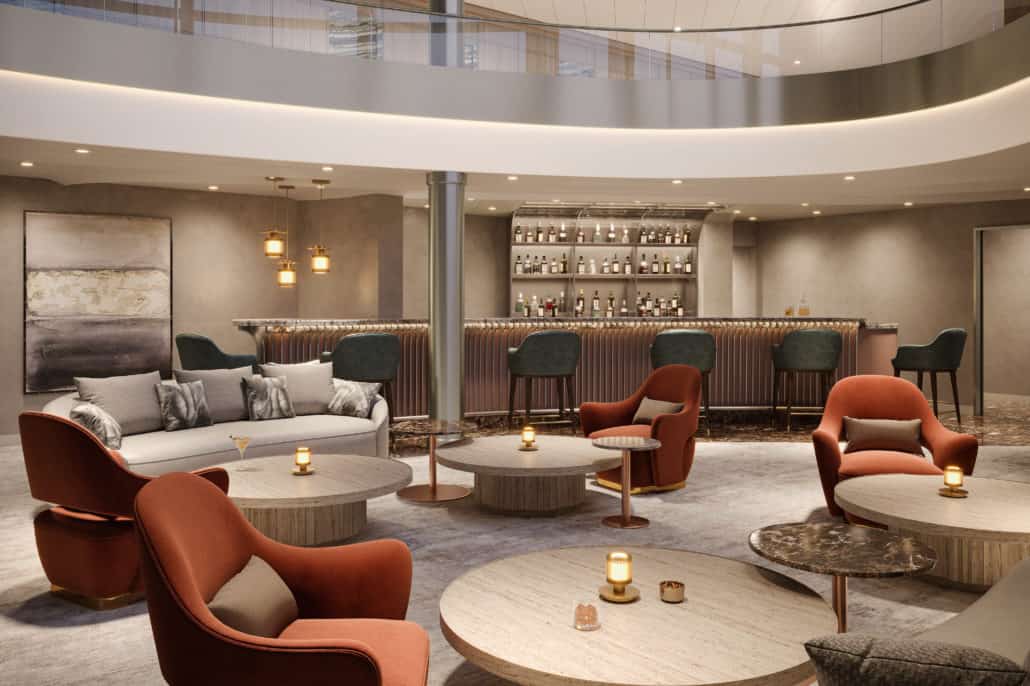 The Connoisseur's Corner
Silver Nova's Connoisseur's Corner will offer a selection of premium cigars and liquors on deck five, and benefit from a new layout with a larger, modern interior space complete with floor-to-ceiling windows and an outdoor area.
MORE: 139-Day World Cruise Departing From Sydney, Australia This Week
The Observation Lounge
Offering guests panoramic, 270-degree views over the destination from deck 10, the Observation Lounge will provide a vantage point from the top of the ship, with floor-to-ceiling windows and a color palette inspired by the sea. The venue will be larger than on other Silversea ships, and house Silver Nova's library.
The Panorama Lounge
A peaceful lounge by day and a lively bar by night, Silver Nova's deck five Panorama Lounge will accommodate up to 190 guests. Large windows that surround the interior give way to outdoor space that will allow guests to enjoy 270 degree views from the ship's aft. This ship's Panorama Lounge will feature a new layout compared to the Muse-class vessels, plus a new design and color palette.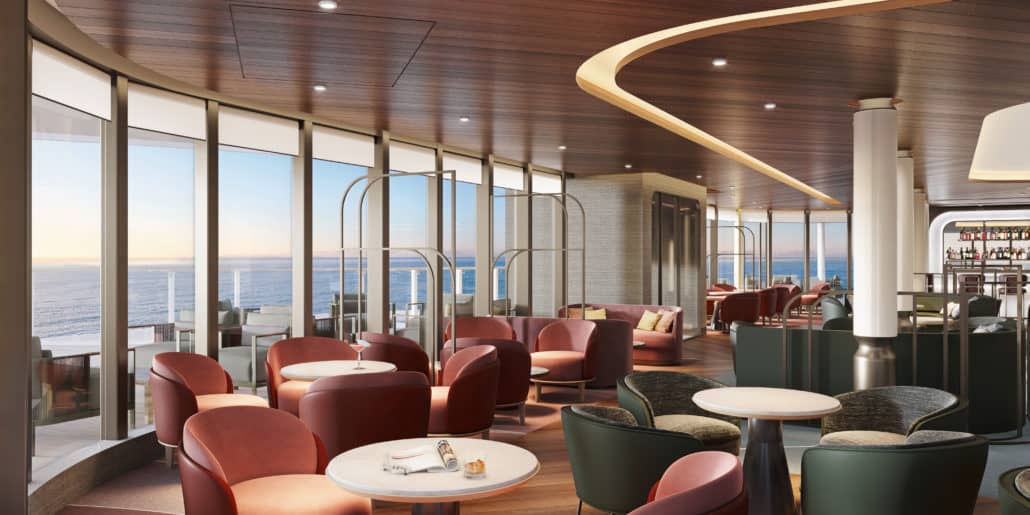 S.A.L.T. Bar
The S.A.L.T. Bar will enjoy a premium position on Silver Nova compared to the other ships, relocated to deck 10. The evening venue will feature a larger bar area, floor-to-ceiling windows, and a new outdoor area. It'll serve regionally-inspired drinks in warm, elegant interiors with a dark color palette and comfortable armchairs.
S.A.L.T. Lab
Also relocated to deck 10 with a new outdoor area, the S.A.L.T. Lab will be enhanced on Silver Nova with a fresh layout. The test kitchen will enable guests to travel deeper into each sailed region through the lens of food and drink, providing the opportunity to get hands-on with regional ingredients under the guidance of local food experts and Silver Nova's S.A.L.T. Host. Enjoying the same bright, elegant interior design as on previous ships, the lab will feature cooking stations and a larger, redesigned central workstation where guests can sit to view demonstrations.
Otium Spa
The Otium Spa will be relocated when compared to Silver Dawn, positioned towards Silver Nova's bow on deck five with a more spacious interior. Open throughout the day as the home of the Roman-inspired Otium wellness program, the space will include an indoor swimming pool, spa with eight treatment rooms, the fitness center, and a beauty salon.
Inspired by the design of ancient Roman baths, the Otium Spa will have an open, welcoming feel. The thermal area will be larger than ever, including a steam room, sauna, and pool complete with a water fountain.
Eight Enhanced Restaurants
Silver Nova will include eight signature restaurants — decks three, four, and five will accommodate the indoor restaurants: La Terrazza, Atlantide, S.A.L.T. Kitchen, La Dame, Silver Note, and Kaiseki. The Marquee on deck 10 will house the ship's two outdoor dining options: Spaccanapoli and the Grill.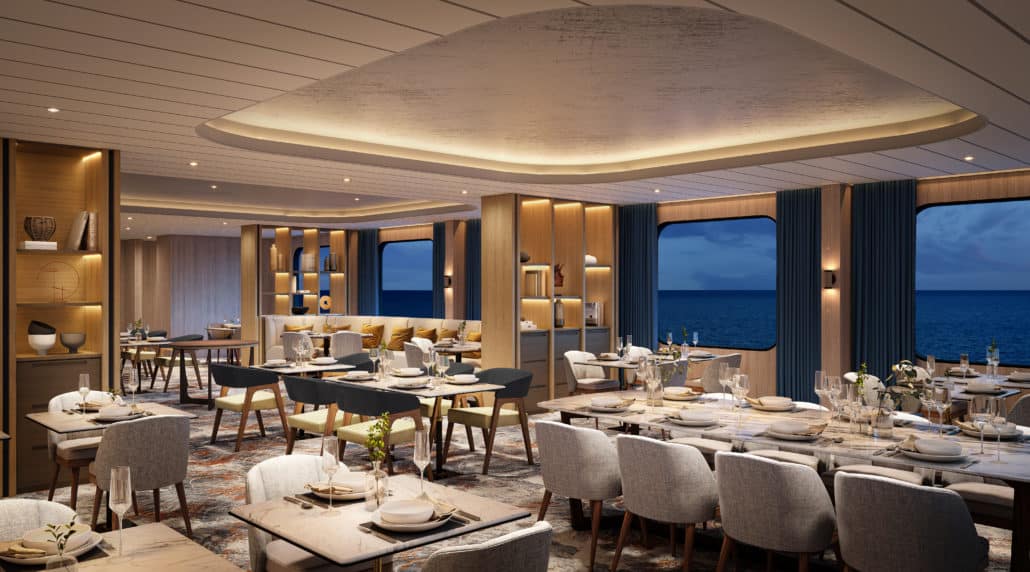 Additional public spaces will include the Arts Café, a three-story atrium, casino, two-story boutique, and two outdoor bars: the Pool Bar and the Dusk Bar.
Silver Nova is set to become the world's first low-emissions cruise ship with advanced hybrid technology that utilizes fuel cells, emitting zero local emissions while in port — a first for the cruise industry.
READ NEXT: Fed-Up Guests to Cruise Lines: 'Enough is Enough!'