Today was our second of three ports during this western Caribbean cruise: Costa Maya, Mexico.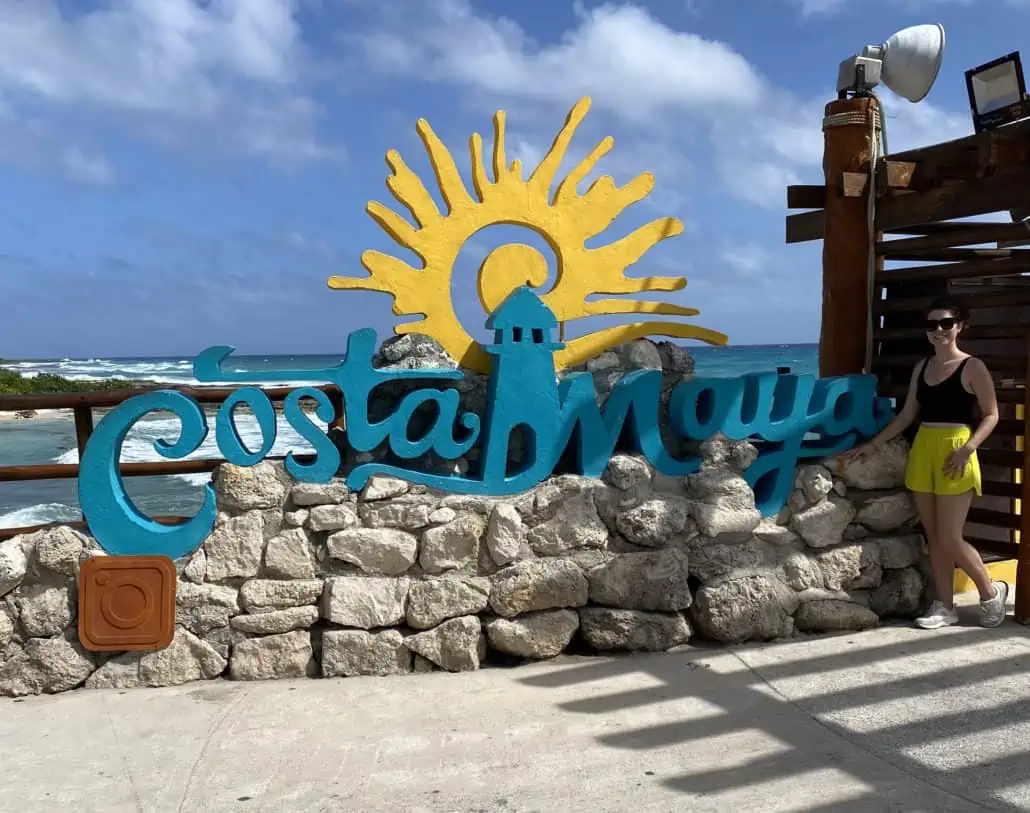 Like yesterday, I purchased an excursion through Carnival for Costa Maya to Zona Arqueológica de Chacchoben, or the Chacchoben Archaeological Area.
Our very comfortable, air-conditioned tour bus departed the port around 8:30 am for the approximately hour-long drive to the park, which is a tropical rainforest filled with Mayan ruins. During the drive, our very friendly, informative tour guide told us a bit about the area and the Mayans and their culture.
Once at Chacchoben park, everyone on our excursion moved together as a group, walking through the park as our same tour guide from the bus talked us through what we were seeing and the history of the Mayans.
The Mayan pyramids and very impressive, especially considering the fact that not only were they built by hand, but the rocks were also taken from a nearby quarry and moved to the construction site via manual labor as well… those rocks aren't small!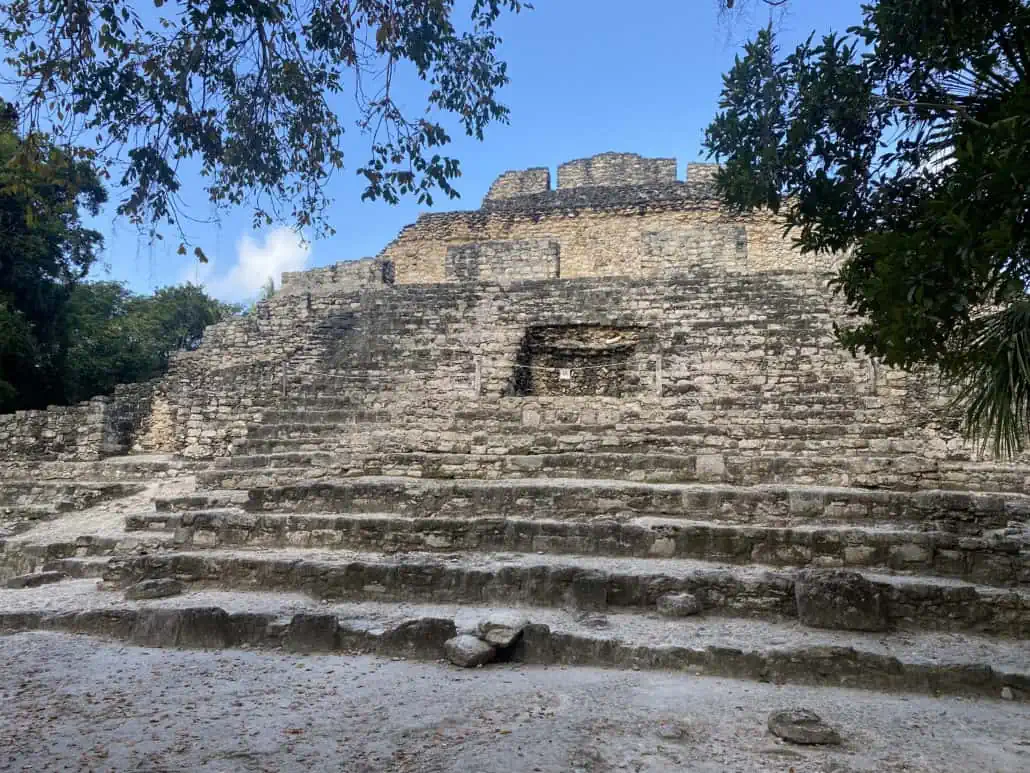 Because of people's disrespect of the ruins in the past, visitors to the park are not allowed to climb on most of the pyramids. However, there is one ruin where it's allowed: the Gran Basamento Temple. It's neat to stop and think about where you're walking and what these sites were used for thousands of years ago.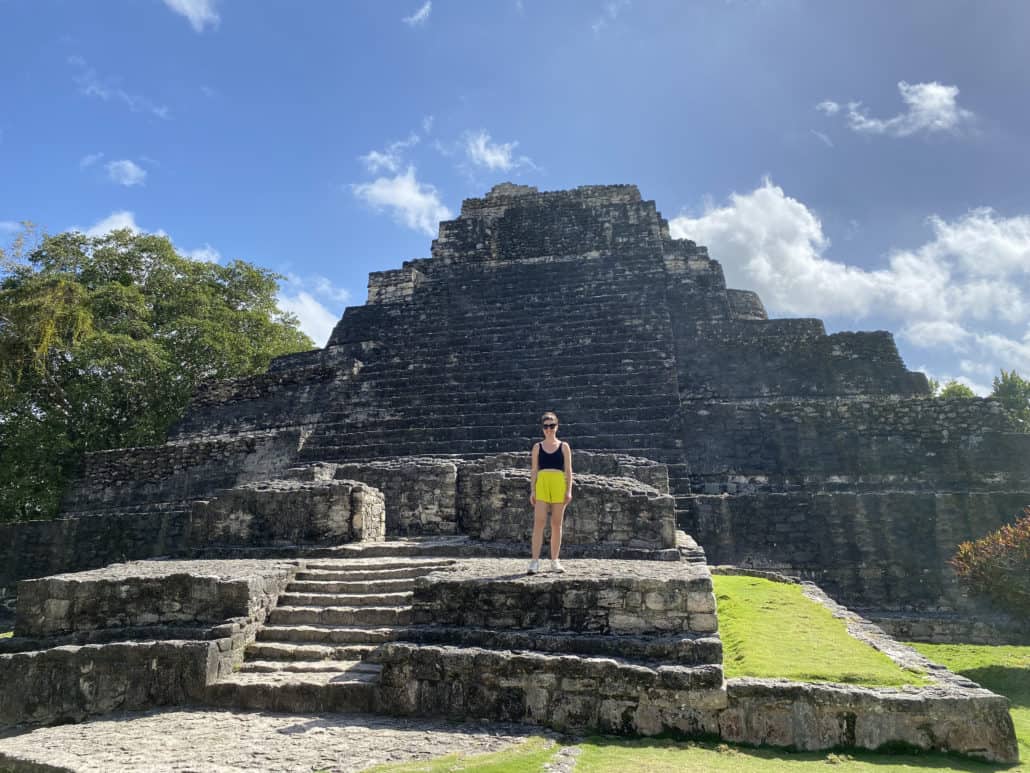 The tour doesn't include a meal, but by the parking lot of the park is the opportunity to buy souvenirs and packaged snacks, plus some dishes like fresh chips and guacamole.
If you're curious about what this exact excursion is, it's called Chacchoben Mayan Ruins on Carnival's website. The duration is about 4-4.5 hours and it currently costs $90 per person. For someone who had never visited any Mayan ruins before, I'd say the excursion was well worth the money. Our guide was very informative as he took us through the park and was well-versed when people asked additional questions. The park was beautiful and very lush, and the ruins were impressive to see in real life.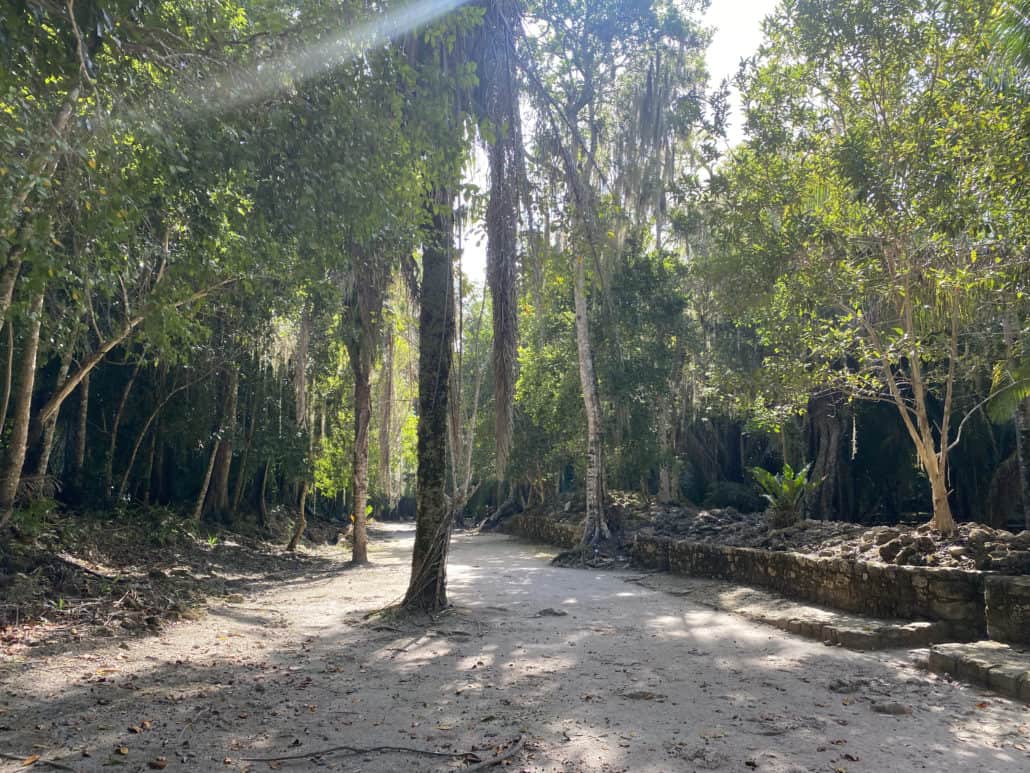 Back on the ship, our first priority was finding a late lunch, so we headed to Guy's Burger Joint. I actually haven't had a Guy's burger in years so it was nice to revisit my favorite — The Ringer. It tasted like I remembered! We also got some tater tots with buffalo sauce and blue cheese dressing at Street Eats. I'm not always a huge tater tot person but the chicken wing-type flavors were SO good.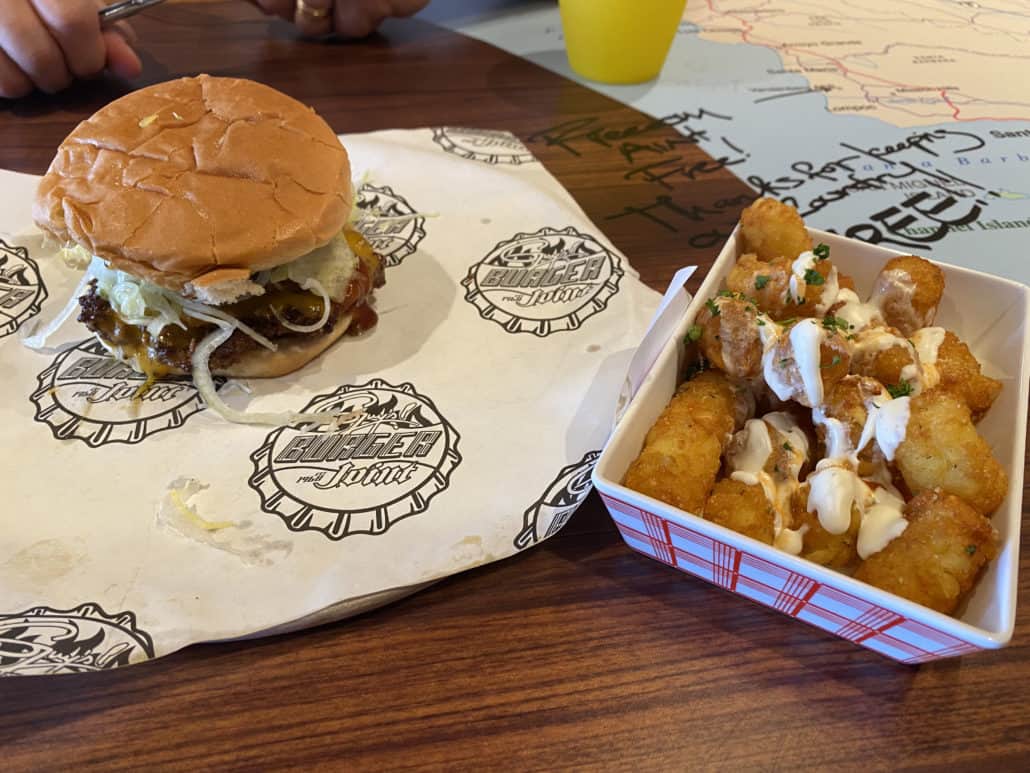 After lunch, I took a VERY long nap. Like hours. I didn't sleep very well last night and had an early morning to get ready prior to getting off the ship around 8 am for the excursion. Plus, I wanted to be well rested for a very special and unexpected dining experience… The Chef's Table!
I don't know how it is on other Carnival ships, but here on Celebration Chef's Table, participants meet at the JavaBlue Café prior to being led to the first part of the experience in the Carnival Kitchen space — so that's what we did at 6:15 pm.
I believe there were a dozen people of us for tonight's Chef's Table, with the experience able to accommodate up to 14 guests. We were led into the Carnival Kitchen, which is where the ship hosts cooking classes. There, we had champagne and four different light bites created by the ship's top chefs.
After a quick demonstration on how to make Carnival's famous warm chocolate melting cake (it's so simple!) we were led through the ship's main galley to the Chef's Table dining room (which is actually in the galley and has windows overlooking all the action) where all of us sat at one long table together.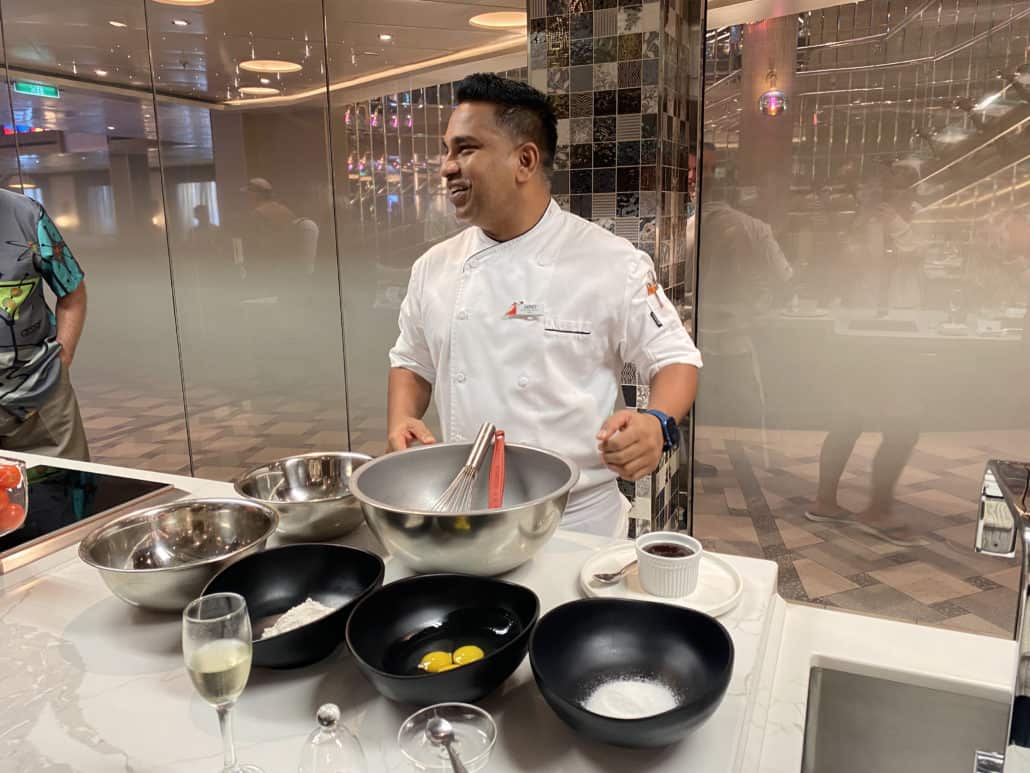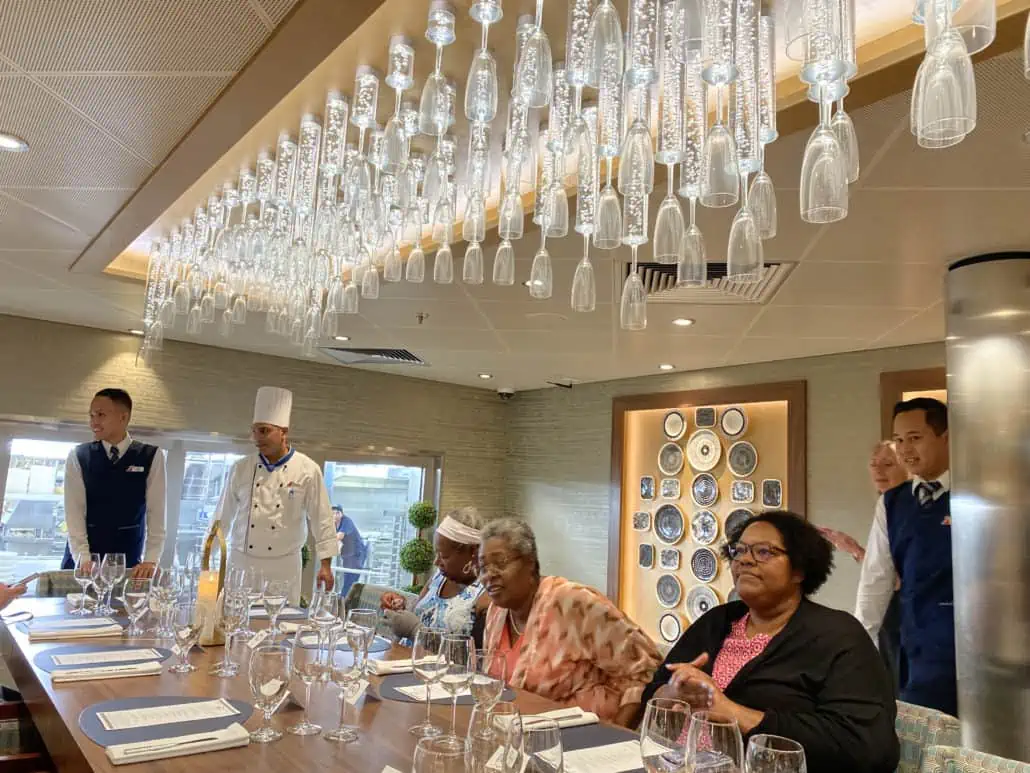 The experience began with warm wine bread and honey butter and only got better from there. The meal consisted of eight courses which were explained by the chef just before digging in. It also included red and white wine, plus some ice wine at the end. Partway through the experience, the ship's sleight-of-hand magician came in to perform some tricks for us — and they were amazing. He also kept us laughing with his quick wit and jokes, and it was a great break from all of the eating we were doing.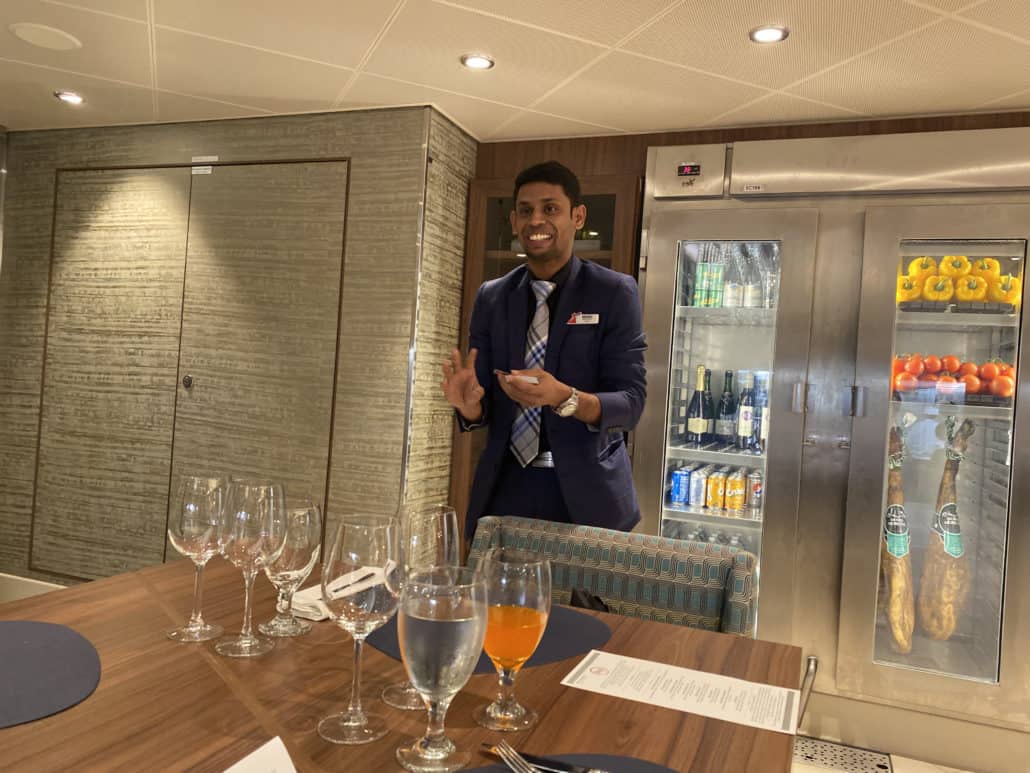 Overall, The Chef's Table was such a wonderful experience! I honestly did not expect to enjoy each course as much as I did. Of course some dishes I liked more than others, but there was nothing we had that I genuinely disliked. The flavors were creative, the presentation was creative, the chef and servers were amazing, and we had a great time.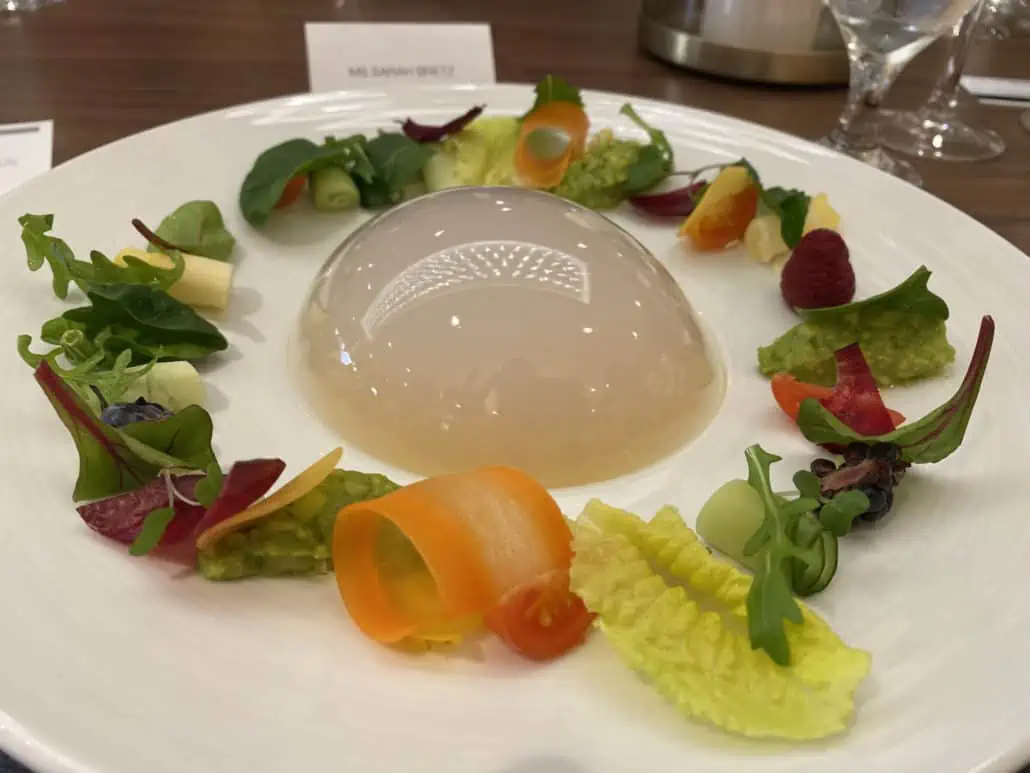 I'm going to do an entire separate article on The Chef's Table, including my specific experience and thoughts, the menu (which is a new Chef's Table menu created just for this ship), and what's included — so keep an eye out for that in the coming weeks if you want more details.
After dinner ended around 8:30-8:45, we headed straight for Celebration Central (the atrium) to snag seats for the 9:30 pm showing of The Most Magnificent Circus show, which included singing, dancing, and acrobatics. As I mentioned yesterday, this show is incredibly popular, and the majority of the seating was already filling up.
I'm really impressed by the LED screens that make up the backdrop for many of these shows on Carnival Celebration. They are hyper-crisp and done really well to match what's happening with the performers. The show was sparkly, colorful, and theatrical, with impressive acrobatics, which are among my favorite types of performances on cruises. I'd say I probably expected to be a bit more impressed by the show in general, but I'm really glad I went and still think it's completely worth your time if you love acrobatics.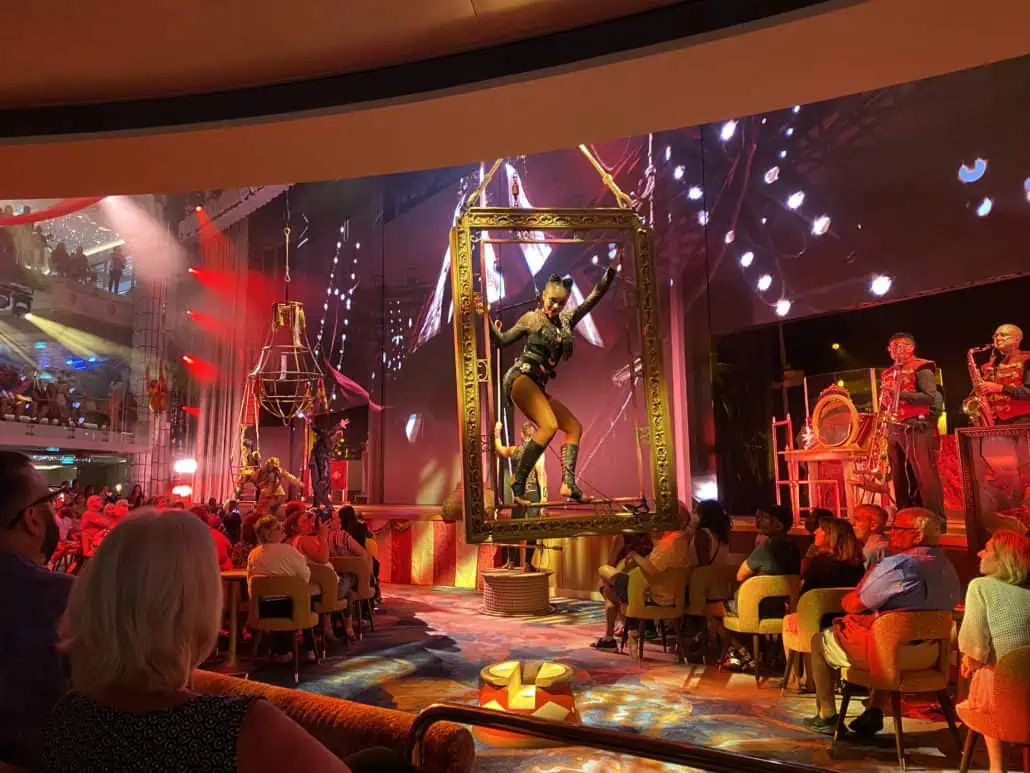 Despite my very long afternoon nap, I was ready for bed once the show was over so I headed back to the cabin. Tomorrow is our final port of the cruise — Mahogany Bay, Roatán — which means I get to check off a new country: Honduras!