Welcome to my second day aboard Carnival Celebration. Today was a sea day, which meant I was able to sleep in! If you read my first trip report, you know that I wanted to get a good long night's sleep after the long first day of the cruise.
First Things First, Sea Day Brunch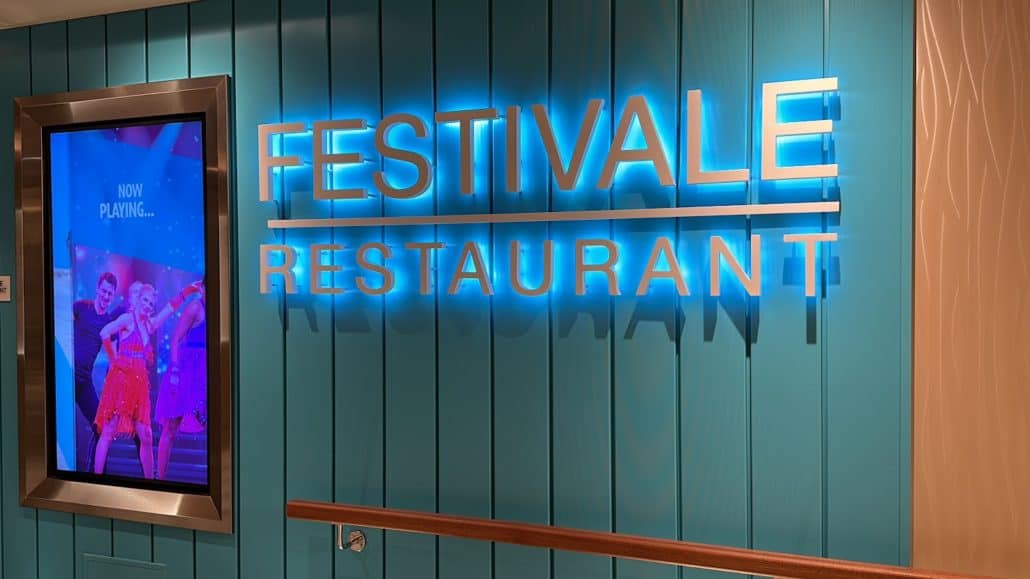 Once I got up, and out the door, the first order of business was to go to check in for Sea Day Brunch.
There are two main dining rooms on Carnival Celebration (mid-ship and aft), and brunch was held in the aft dining room. Like any time dining, you have to check in, regardless if there's a wait or not. If there's no wait, it'll automatically assign your table number and go directly to your table. If there is a wait, it will alert you when the table is ready.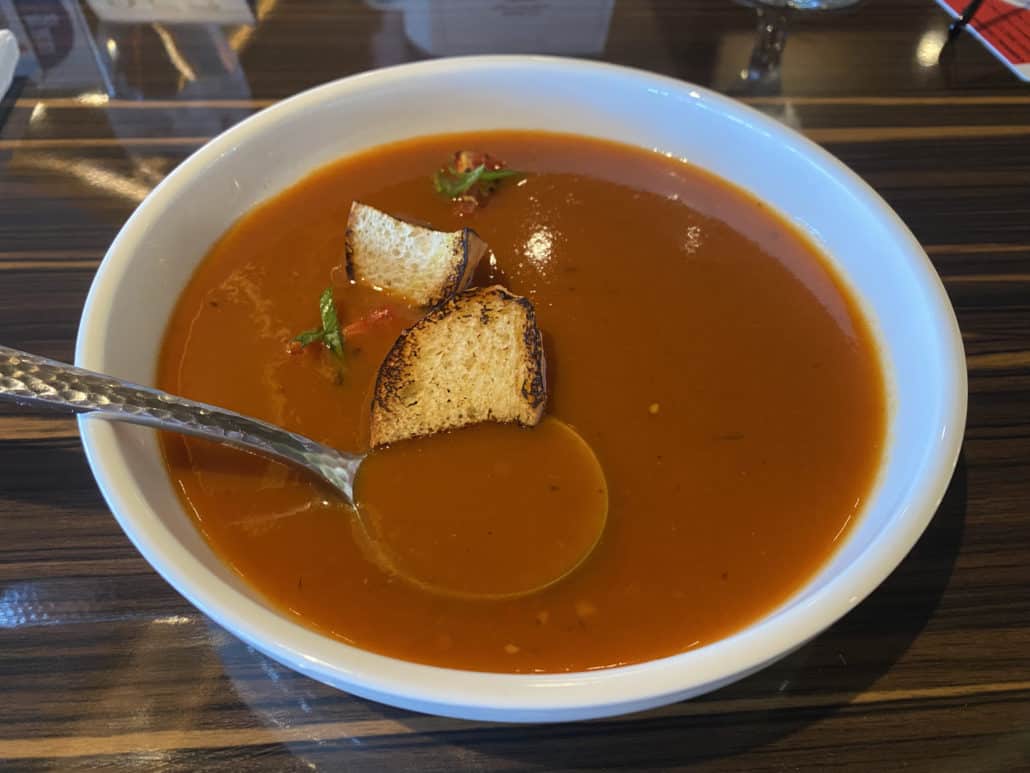 Carnival's Sea Day Brunch is a favorite among cruisers, featuring a wide variety of menu items to please every taste, whether you're looking for more breakfast food or lunch fare. I had flamin' tomato soup and mac and cheese, and my dad had fried chicken and waffles. We loved it all.
Riding BOLT, the Ultimate Sea Coaster
This afternoon, I had the chance to ride the second roller coaster at sea, BOLT. (The first is on Carnival Celebration's sister ship, Mardi Gras.)
It was super easy to make a reservation on the Carnival HUB app yesterday, and once we arrived for our time slot we just breezed through — basically, no wait at all. After making the reservation on the app, you go to deck 18 at your assigned time to check-in. At that point, you're led up to deck 19.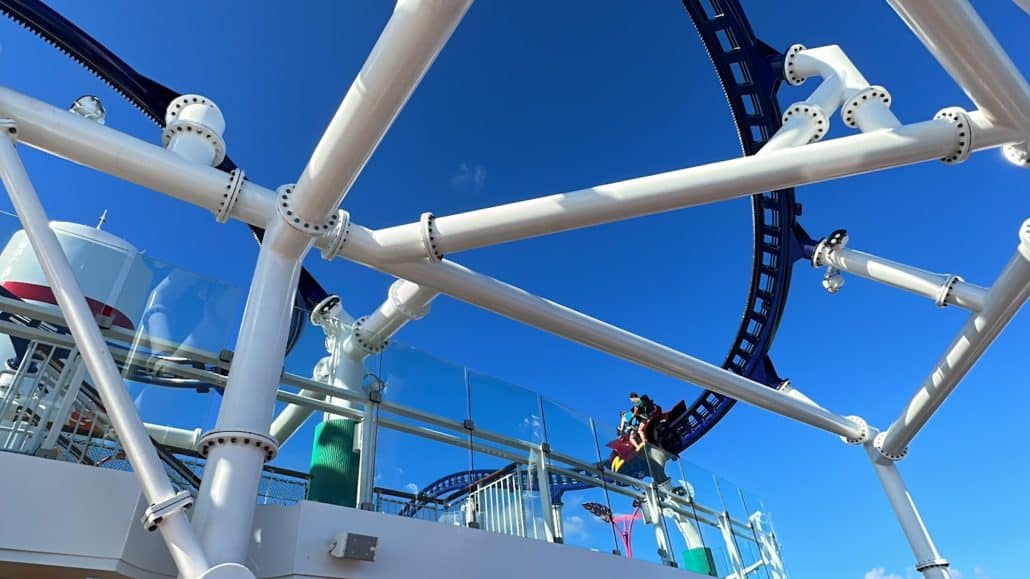 They were very strict on the roller coaster, so you have to have close-toed shoes, and absolutely no cameras are allowed on the ride vehicle (including secure action cameras like GoPro). They do have a member of the photography team taking your photos are you're going around the track.
The ride was awesome – some parts went a lot faster than I thought they would. For $15, you get two laps around the track, and I only wish the experience lasted longer.
Street Eats on Deck 16
After BOLT, I got some Pad Thai from Street Eats — a series of small walk-up windows serving one dish daily that rotates throughout the cruise. It's a great place to check out if you're wanting something small and unique to eat outside on the lido deck.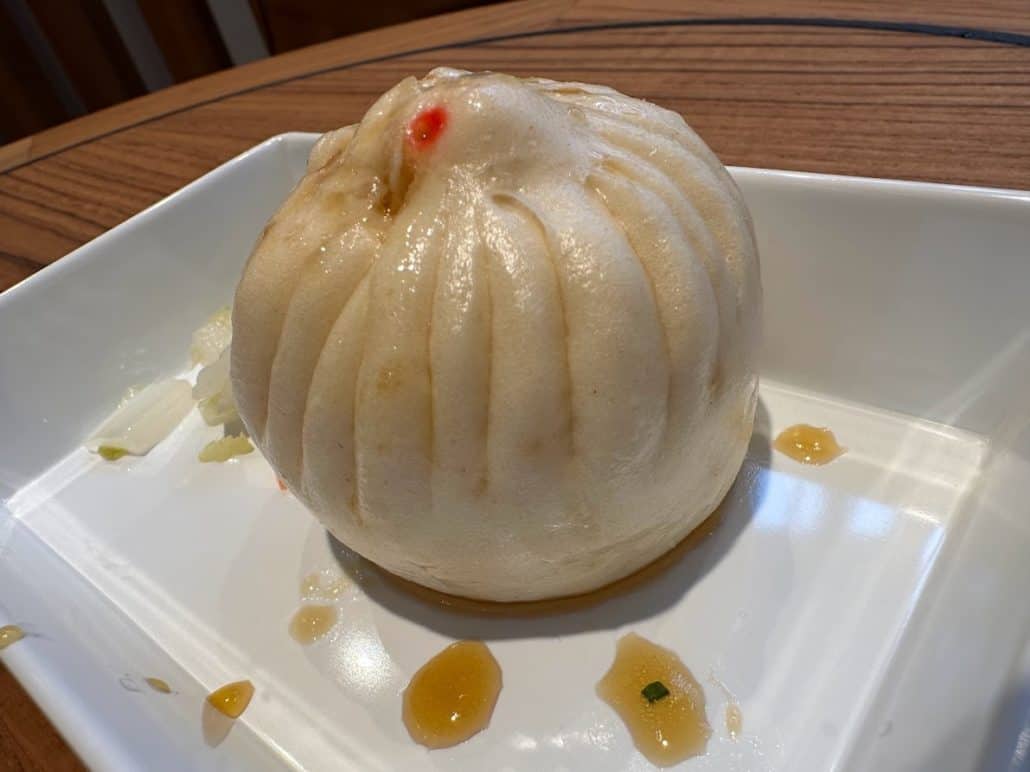 The Street Eats concept first debuted on Mardi Gras and has different venues to try, like steamed buns, Thai, and a fry station. All of these are included in the price of your cruise. The only stall out there that isn't included in the price of the cruise is Seafood Shack, which is a la carte pricing.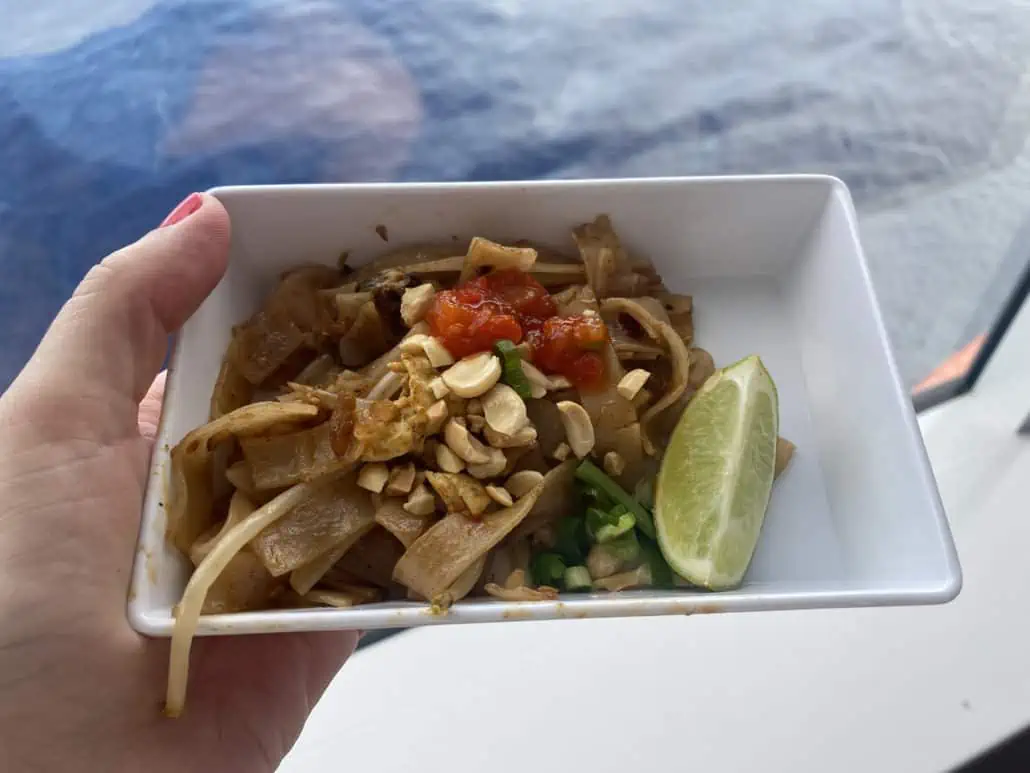 Heading to the Serenity Deck
After eating some Street Eats, I decided to go find a pool to hang out in for a while. I wound up on the adults-only Serenity deck, where I sat on the pool shelf enjoying the bit of sunshine that was still peeking over onto the deck.
Like a good amount of Carnival ships, Serenity is located in the forward part of the ship and has a pool, a lot of loungers both around the pool and wrapping around the forward section of the ship, and of course, the Serenity Bar. My personal favorite in the bar is the Sangria Swirl!
On sea days, there is a Creation salad bar at the other end of the Serenity Bar, this is also included in the price of your cruise. However, the line can get pretty long and it's only open for lunch and on sea days.
Eventually, the sun went behind the clouds, and I decided I was chilly enough to get out and head back to my cabin.
Carnival Celebration Formal Night
Tonight was the formal night which, to be honest, I didn't prepare much for or put much thought into for this cruise. However, I did bring some snazzy new bronze pants that seemed like they could work, so I put those on with a black top and called that good for tonight's formal night.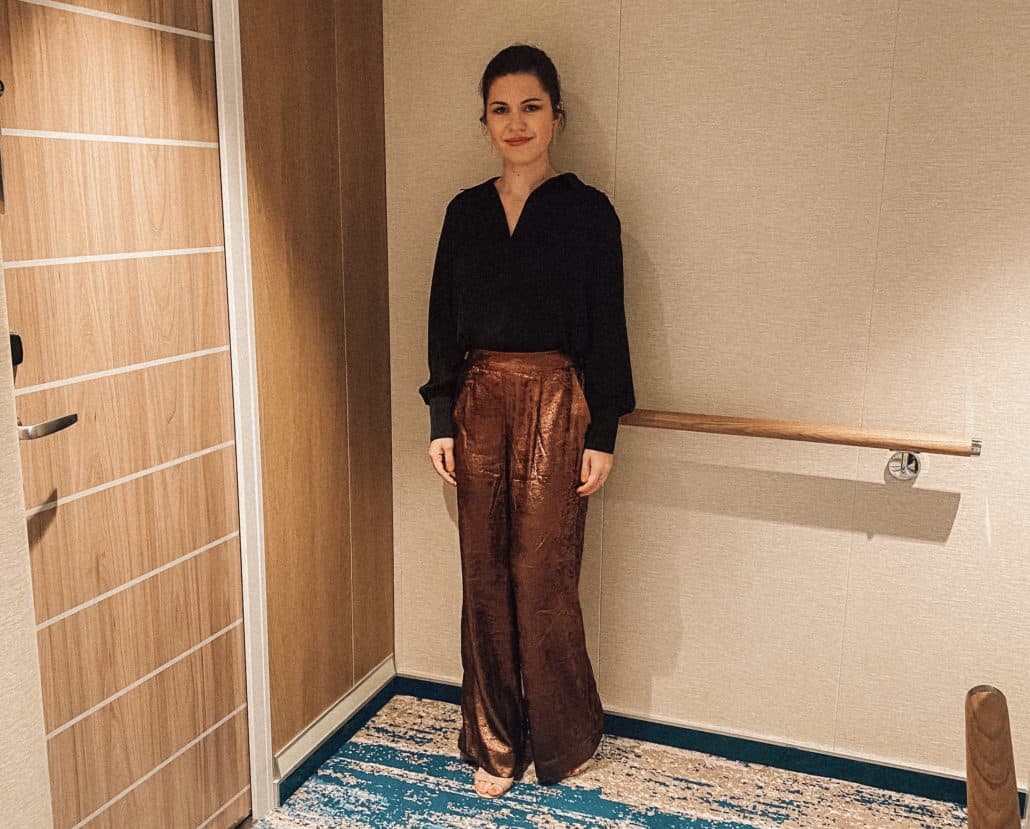 For dinner, I had pumpkin soup, chicken alfredo, and Grand Marnier souffle. My dad had filet mignon and butter pecan ice cream — we thought the quality of everything was really good.
My only complaint was the service was quite slow in the main dining room. I know that formal night is an extra busy MDR night, so I'm not going to judge their regular service based on tonight without trying out the MDR a few more times during this sailing.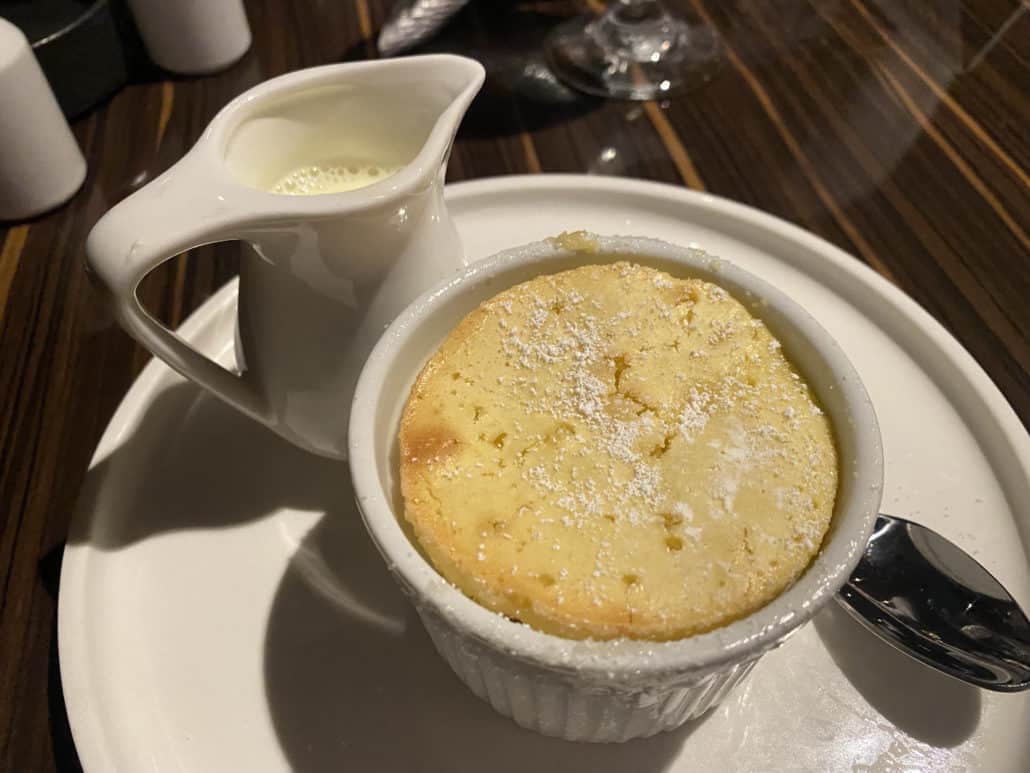 After dinner was my favorite show of any cruise — I seriously look forward to this long before the ship even sets sail — the Love & Marriage Show. They actually had this show twice tonight, and I went to both! As usual, it did not disappoint, and it just reminded me why it's my favorite show to attend on every cruise I take that has it.
The show was held in the main theater located on decks six and seven forward. One thing notable with these larger ships is the entertainment. They schedule the shows and events where there is always something going on, and it helps to disperse the crowds. I've read that there are some areas that experience crowding or bottlenecks, and I'll be reporting on that as I see them.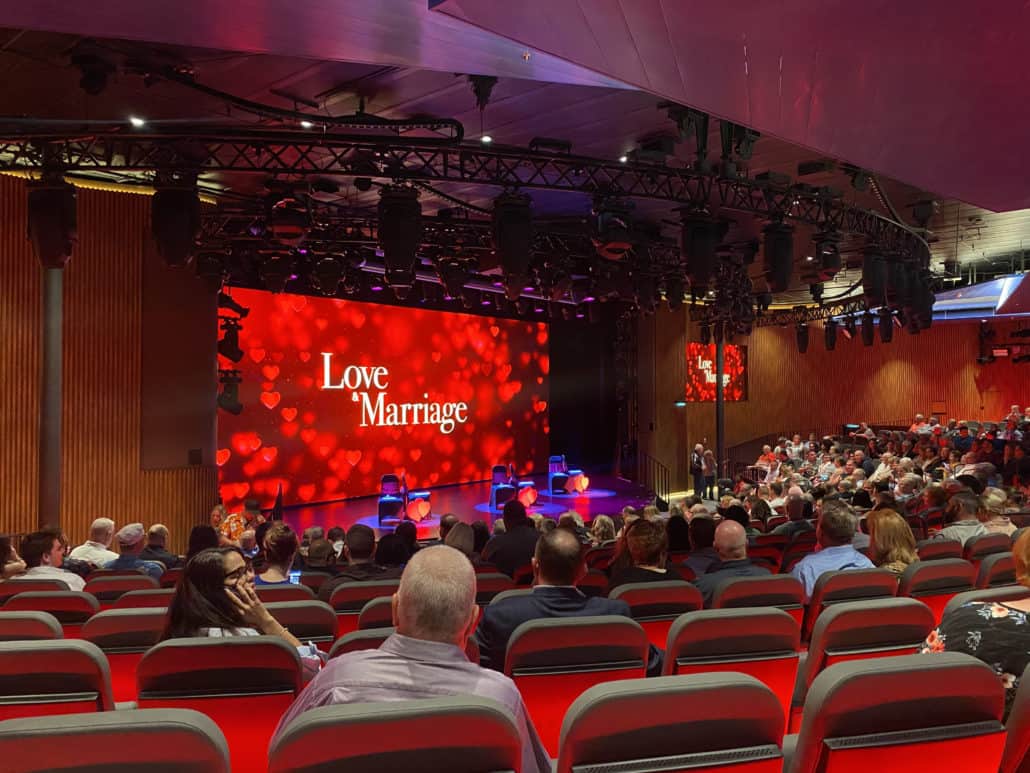 Tonight I went down to the Gateway Zone and tried my first drink from Latitudes this evening. This bar is all about travel and even has the old-style flip board you'd see at airports or train stations.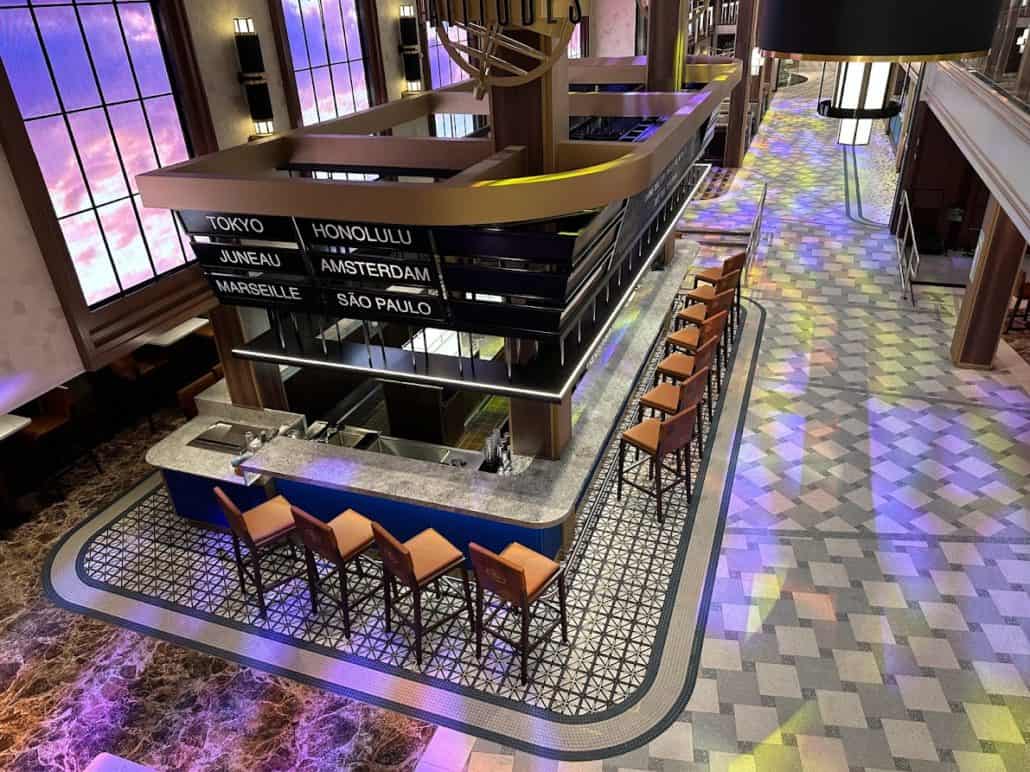 What's cool is the messages and letters actually change on the board. I couldn't figure out how often the message changes, but it's a super cool addition. You can certainly hear it when it changes, and it draws a crowd.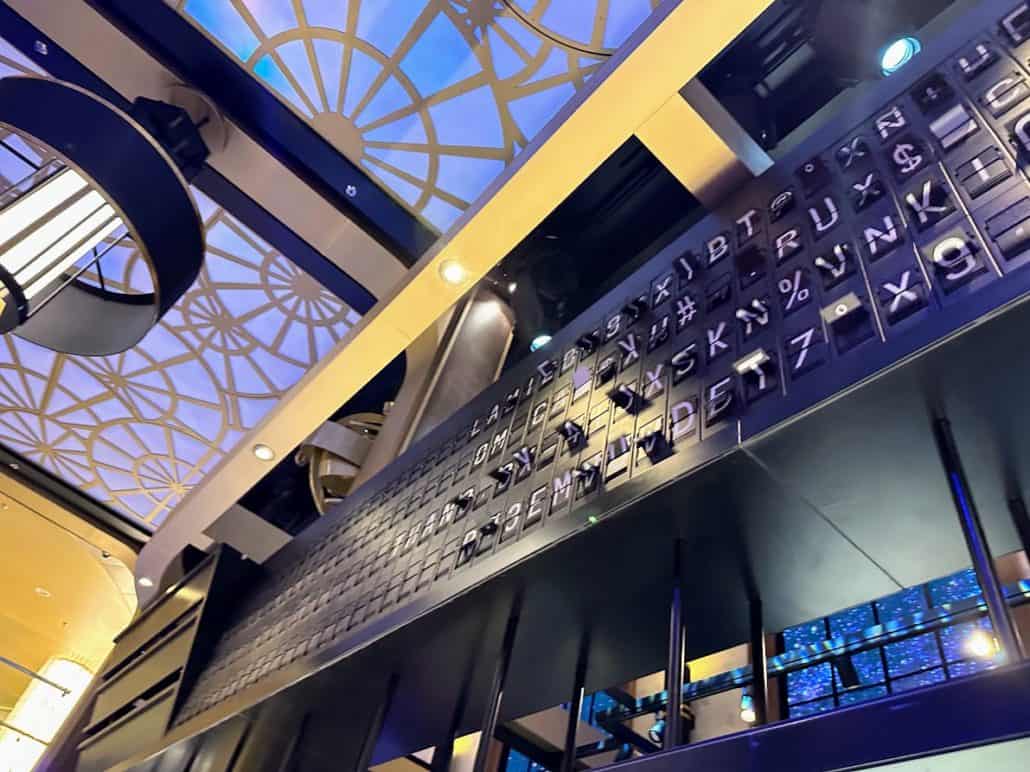 Keeping with the travel theme, the drinks on the menu are themed after drinks from all over the world.
I went with a gin-based cocktail called Bramble. In addition to Bombay Sapphire Gin, it had lemon and blackberry. I love drinks like this, so it was a hit for me!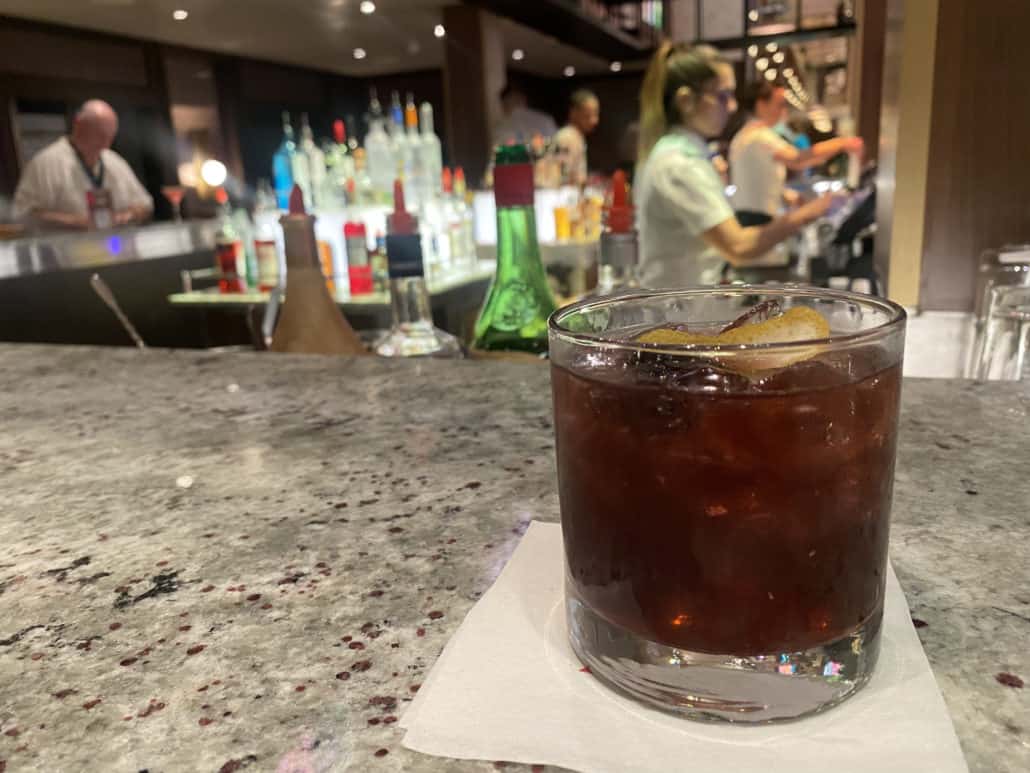 After the shows, I headed up to the pool deck to check out the 80s Rock & Glow Party and, after a few songs, headed to the aft Summer Landing area to sit and enjoy the sound of the wake for a while.
One of my favorite parts of any cruise is listening to the ship cut through the water at night and it was just what I needed to end my first full day aboard Carnival Celebration.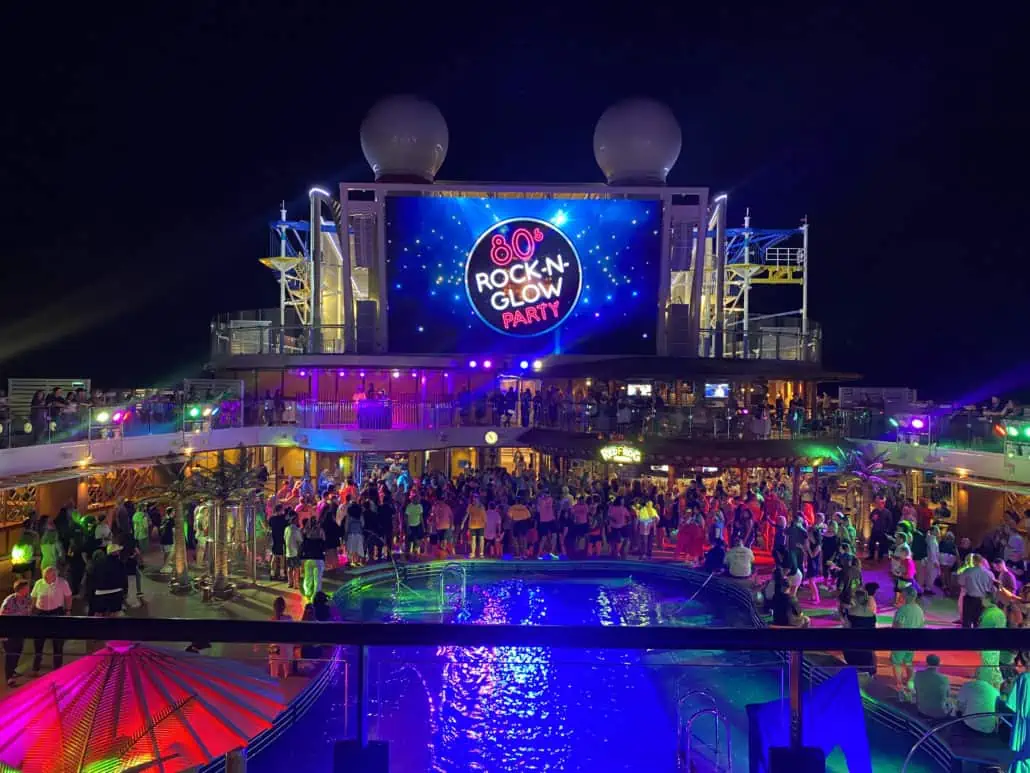 Tomorrow is Cozumel, and it's my first time there. I'll report back on my day there!
Miss a day? Catch up here.